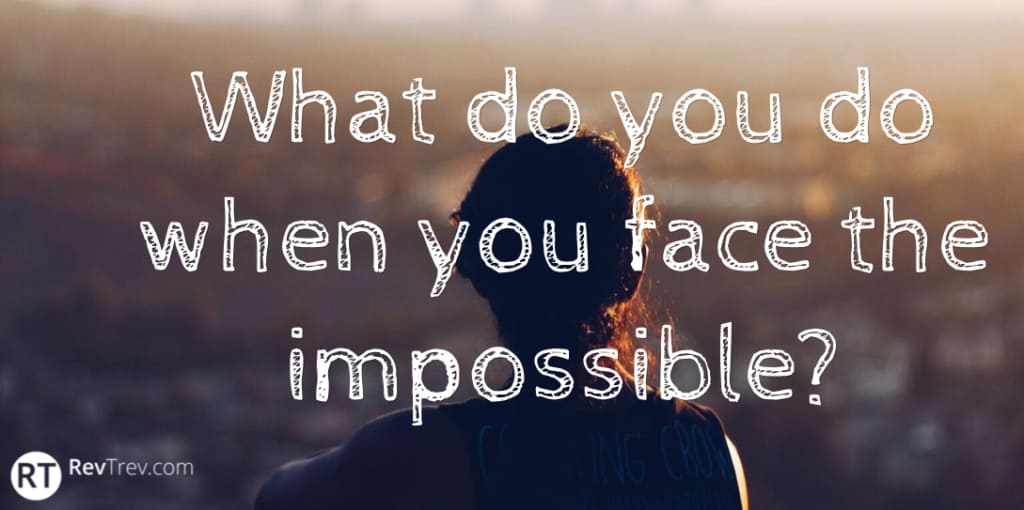 What do you do when you face the impossible?
[Tweet "What do you do when you face the impossible? @revtrev"]
Today we look at the story I knew we'd focus on when we started to look at the lives of the Kings of Judah.
It's a big one. Right up there with the parting of the Red Sea. We just don't have the account in
2 Chronicles 32:1-23
Also told in…
2 Kings 18:17-35 ; Isaiah 36:2-20
We also have it told in…
Herodutus; Josephus
And we have the account from the enemy as well.
We'll get to all of that in a bit.
I want to tell you what happened and then focus on something we can apply in our own lives.
2 Chronicles 32:1
After all that Hezekiah had so faithfully done, Sennacherib king of Assyria came and invaded Judah. He laid siege to the fortified cities, thinking to conquer them for himself.

That doesn't seem right does it?
Guess what? We live in a fallen world where God will doesn't always get done like it does in heaven. IF it did, why would Jesus teach us to pray, "Your will be done on earth as it is in heaven?" He taught us that because we have a part in seeing God's will done…
…but sometimes, even when we do our part, like Hezekiah did, bad things happen.
Don't worry… it's not the end of the story.